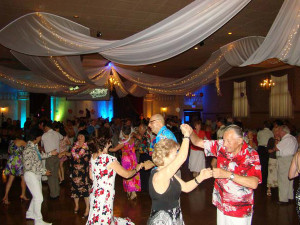 No matter what the occasion, we will work with you to produce an event you'll cherish for years to come. Whether it's a surprise birthday party, fundraiser, or a 50th wedding anniversary, great music and tasteful announcements will make the event a success.
We feel if, a special event is planned well and managed well, it will lend an opportunity for the planner be a guest at their own event.
There are many great reasons to have a party!
Wedding Receptions / Corporate Events
Wedding Ceremonies / Community Events
Engagement parties / Class Reunions
Anniversary parties /Holiday parties
Class Reunions / Family Reunions
Birthday parties /Graduation parties
Company picnics /Retirement parties
Pool Parties / Theme Parties
Bachelor & Bachelorette Parties
                 We offer an experienced staff of great Professional DJ's                             for your special event!
We allow our clients to be involved and in charge from start to finish. We invite and encourage our clients to choose the music and event they want. We don't have any set play lists, we play what the crowd and our clients want. If our clients need help and suggestions or want us to choose some or all of the music, we will do that too!
Customer satisfaction is of our business.
Ashley Fletcher / Entertainment Ambassador