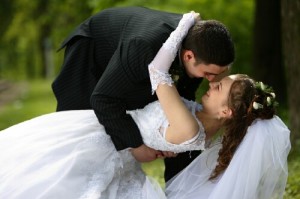 During wedding planning, Brides say their highest priority is their attire, followed by the reception site and caterer – reception entertainment is among the least of their priorities. Within one week after their reception, 78% of Brides say they would have made the entertainment their highest priority!
• 72% of all brides say they would have spent more time choosing their reception entertainment.
• Almost 100% say they would have spent more of their budget on the entertainment.
• When asked, 81% of guests say the thing they remember most about a wedding is the entertainment.
• 65% of all couples that chose a band to entertain at their wedding, said, if they had it to do over again, they would have chosen a disc jockey.
These surveys conclude that nearly 100% of brides would have     spent more money on their entertainment and made it their #1 priority in hindsight.
STATISTICS WERE PUBLISHED IN
ST. LOUIS BRIDE & GROOM MAGAZINE
SOURCES INCLUDE:
THE KNOTUSA TODAY
SIMMONS
BRIDES MAGAZINE
NATIONAL BRIDAL SERVICE
Congratulations! You have found The Premier Wedding Disc Jockey Entertainment Service. We are one of the few entertainment companies that offer a talented team of planners and entertainers that understand all aspects of creating a successful wedding celebration. The party of a lifetime that you will always remember.